Medicare Supplement Consumer Benefits
Medicare Supplement Insurance (also called Medigap) is sold by private insurance companies. The insurance can help pay some of the health care costs that "Original Medicare" does not cover, such as copayments, coinsurance, and deductibles.
Some Medicare Supplement insurance policies also offer coverage for services that Original Medicare doesn't cover, like medical care when you travel outside the U.S.
If you have Original Medicare and you buy a Medigap policy, Medicare pays its share of the Medicare-approved amount for covered health care costs. Then your Medicare Supplement insurance policy pays its share.
What information do I need to know about Medigap plans?
There are four things to know.
You are still in the Medicare program. When you purchase Medicare Supplement insurance, you do not cancel or replace your Medicare Part A and Part B coverage. You still have all your Medicare benefits, rights, and protections.
Medicare Supplement insurance plans are standardized. By law there can be no difference in plans offered by different insurance companies. There is an exception for people who live in Massachusetts, Minnesota, or Wisconsin.
Price and quality of service can vary from one insurer to another. Other than deciding which Medigap plan is best for you, comparing prices and selecting a quality insurance company are your most important decisions.
Prescription drugs coverage is not included. But you can consider a Medicare Part D prescription drug plan to cover your drug costs. Medicare Supplement insurance plans sold before 2006 may offer coverage for prescription drugs.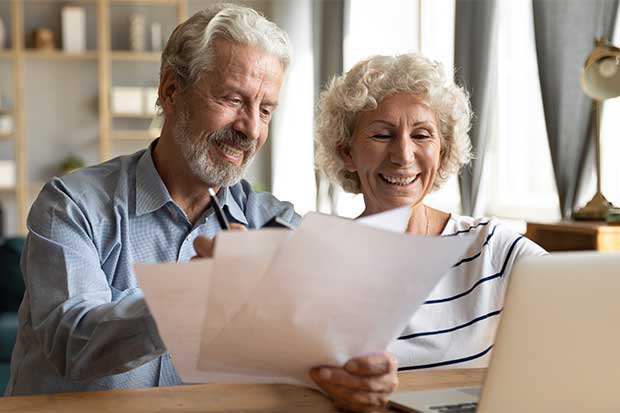 Why do 13 million Americans have Medicare Supplement Insurance?
Peace of mind.
A Medicare Supplement insurance policy offers financial security and peace of mind. Peace of mind comes from knowing you have planned and are prepared for any costly health care surprises.
Freedom to choose
You control and choose to see any medical professional anytime, anywhere … as often as you need care. The only requirement is that they accept Medicare (and new patients).
Portable coverage
You are not restricted to use a network of health care providers. If you move, your Medigap coverage goes with you. You may even include foreign travel emergency benefits.
Guarantees that protect
In most cases, your premium (monthly cost) is locked in for the first 12 months. (can vary by carrier) Plus, policies are guaranteed renewable. That means no worries about being canceled or having benefits reduced if your premiums are paid on time.
Who is eligible for a Medigap plan?
You can apply for a Medicare Supplement insurance policy if you are:
A resident of a state where the policy is offered.
Enrolled in Medicare Parts A and B.
Age 65 or over or, in some states, under age 65 with a disability and/or end-stage renal disease (plan offering, and eligibility vary by state).
When is the best time to buy A Medicare Supplement plan?
That depends. Most people enroll in Medicare when they turn 65. This is called the "Open Enrollment" period. It begins three months before your 65th birthday, includes the month of your 65th birthday, and runs until six months after your birthday.
During the Open Enrollment period, you qualify for guaranteed issue coverage. That means the insurance company must accept your application no matter what health conditions you have. This is an especially important fact to remember.
IMPORTANT INFORMATION: Switching Medigap plans
There are reasons people switch their Medicare Supplement insurance plan.
You are paying for benefits you do not need.
You need or want more benefits than you needed before.
Your current Medigap policy has the right benefits but you want to change your insurance company.
You want to find a Medigap policy that is less expensive.
Before you switch do a careful comparison of benefits. If you bought your policy before 2010, it may offer coverage that is not available in newer plans. If you bought your policy before 1992, your policy might not be a "guaranteed renewable policy." It may have a bigger premium increase than newer Medigap plans available.
Get To Know Your Options